What are Braces for Teens?
With low-profile traditional braces for teens, we can correct alignment issues to straighten crooked teeth.
By the time your teen has all of their permanent teeth (which happens for most people between the ages of 11 and 13), we can work on the fine details of correcting any tooth alignment, crowding or bite-related issues. 
In this phase, we also finish aligning the teeth and bite, perhaps continuing the work we began with palatal expansion and orthodontic treatment planning. We can now bring each tooth to a precise location in your teen's mouth, and check that they sit properly in relation to other teeth, lips, tongue and cheeks. 
Braces might be used to continue treatment started with early orthodontic intervention. While treatment with dental braces for teenagers can take anywhere from 9 months to 5 years, the average treatment time falls between 1 and 2 years. 
Thanks to advances in technology, braces available today are lower profile in appearance. Depending on your teen's preference, they can accessorize with coloured brackets or go with a singular colour for a minimal look.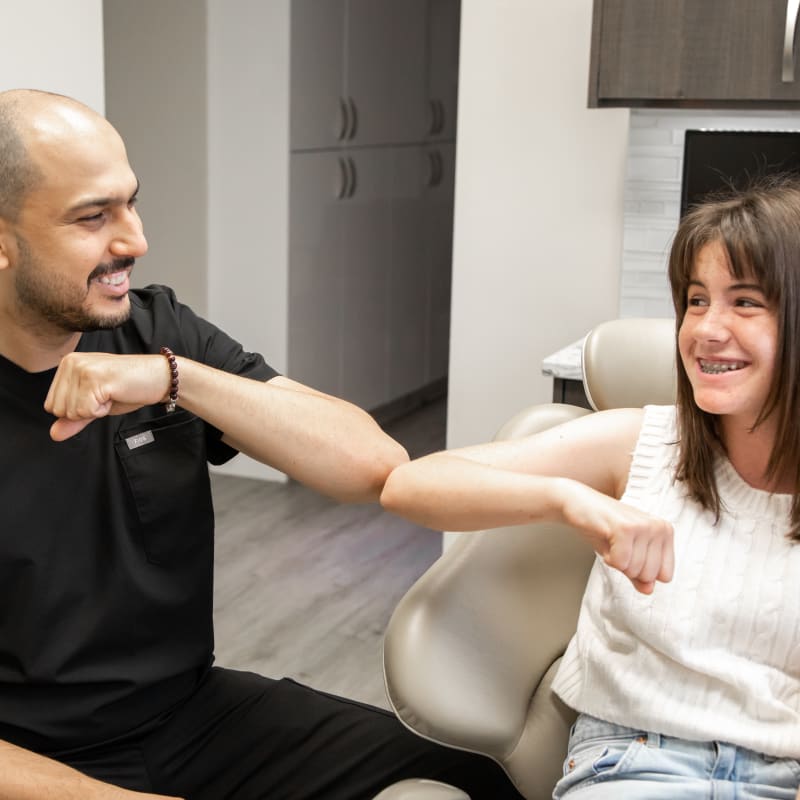 Why Braces for Teens?
While some teens may have alignment or other issues that cannot be treated with clear aligners, braces might be the right treatment option for them. Using braces, we can:
Properly align teeth to encourage better brushing and flossing, which helps prevent cavities and gum disease
Treat alignment issues with a durable, non-removable treatment option (so your teen will not have to worry about taking out their clear aligners during sports or other activities, and putting them back in)
Help reduce jaw pain and muscle stiffness due to misaligned bite or jaw position
Reduce the risk of chipping, fracture or other tooth trauma in the future
Potentially prevent the need for more invasive treatment in the future, such as tooth extractions or oral surgery.
Continue orthodontic treatment based on your child's needs and treatment plan
How Dental Braces for Teenagers Work 
Braces can be a great orthodontic treatment option for teens experiencing more complex misalignment or crowding issues. 
Braces might be the second phase of orthodontic treatment if your teen had palatal expansion earlier. While different types of braces are available, for patients with bite, crowding or alignment issues, a bracket will generally be attached to each tooth before it's connected to a wire that crosses a row of teeth. 
If required, elastic bands can be attached to brackets. These will be stretched between the upper and lower teeth to correct specific issues. Your teen's teeth will gradually change positions in tiny increments.
While each teen's treatment time will vary depending on their specific needs and issues, most teens have braces for about 2 years. They will typically check in with their orthodontist every 6 to 8 weeks for adjustments and to check that the braces are working as intended.