Braces For Children
Traditional braces use brackets and wires to straighten crooked or crowded teeth and gradually shift them into position. 
Braces are a reliable, time-tested orthodontic treatment method used to correct issues such as misaligned, crowded or disproportionate teeth. 
Braces can be a great choice for children as young as 7 who need early orthodontic treatment.
Kids' braces offered by myORTHODONTIST may appear different from what you remember; due to advances in treatment, braces have become smaller and more comfortable for mouths that are still growing.
Braces often work well for children as they are more economical and durable. They are also fixed and non-removable, meaning your child won't need to remember to put them back in after brushing or eating.
We may recommend braces for children with bite issues and extreme overcrowding. They are often part of an overall treatment plan designed specifically for each child's needs.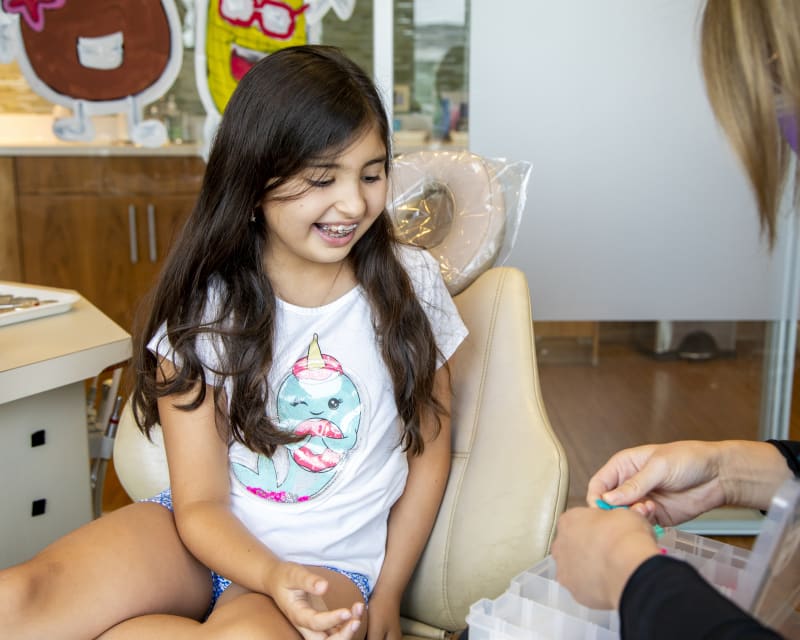 Why braces for kids?
Some children may not be candidates for clear aligners and will need the option to straighten their teeth and prevent future oral health issues due to misalignment. With traditional braces, we can:
Properly align teeth to support better brushing and flossing, which helps prevent gum disease
Support better chewing and biting of food, which aids digestion
Help reduce jaw pain and muscle stiffness due to misaligned bite
Prevent eventual bone erosion due to gaps in teeth
Potentially avoid severe or recurring oral and overall health problems in the future due to chipped teeth, headaches and more
How Kid's Braces Work
Kids braces can be part of a proactive approach to your child's orthodontic treatment, not only helping to treat current health issues but also preventing future problems with the teeth, mouth and jaw. 
Our orthodontists in Calgary typically recommend braces for children whose teeth are crowded or crooked or require realignment. Patients may also have crossbite, overbite or underbite. A bracket will be attached to each tooth, then connected to a wire that spans a row of teeth.
If needed, large elastic bands are attached to brackets and stretched between the upper and lower teeth. This system will gradually shift your child's teeth into their prescribed positions, typically over a period of about 2 years. Your child will see their orthodontist for wire adjustments periodically - usually every 6 to 8 weeks.