What are Braces for Adults?
Braces have come a long way in the past few decades. We can now help correct bite and alignment issues with aesthetically pleasing, low-profile options.
If you need braces as an adult, you might feel anxious or self-conscious about using them to treat orthodontic issues. After all, maybe you're remembering the bulky wires and brackets your peers may have worn decades ago. 
However, thanks to advances in orthodontic treatment, we now have braces that are more low-profile, comfortable and easier to care for - good news if you have a client-facing career or active social life. 
Braces can be a good treatment option for adults with more complex cases who may be unable to use Invisalign clear aligners. For most patients, treatment time typically ranges from 1 to 2 years.
Whether you had orthodontic treatment as a child or teen or this is your first experience, the orthodontists at our two Calgary locations can address any questions you may have and help you navigate the process.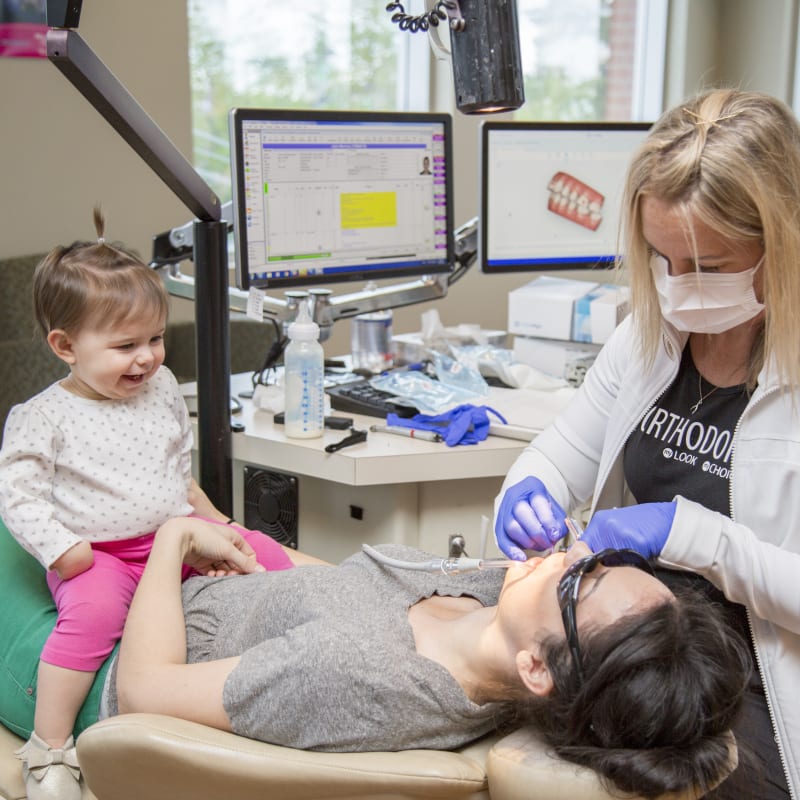 Why Dental Braces for Adults
Traditional dental braces might be the right treatment option for you if you have bite or alignment issues that cannot be treated with clear aligners. With metal braces, we can:
Treat tooth alignment problems with a durable, non-removable option (so you will not have to deal with keeping your aligners in for 22 hours every day, and remembering to put them back in after eating or playing sports)
Help prevent muscle stiffness, pain and negative health impacts due to bone loss or erosion in the jaw from misaligned bite
Potentially avoid more invasive options such as tooth extraction or surgery
Correctly align teeth to help make it easier to brush and floss, which prevents periodontal disease and tooth decay.
Reduce the risk for chipping, fracture or other tooth trauma in the future
Help resolve issues with speech and chewing due to bite problems
How Teeth Straightening for Adults Work
If you have complex issues with your teeth such as crowding or misalignment, braces may be a great orthodontic treatment option. 
Many people choose braces in adulthood to correct issues that were not addressed when they were a child or teen. For those with alignment, bite or crowding problems, your orthodontist will attach a bracket to each tooth before joining it to a wire that crosses a row of teeth. 
While there are different types of braces, in general, larger elastic bands may be attached to brackets if needed. These will be stretched between upper and lower teeth to help resolve specific issues. Your teeth will gradually shift positions in small increments. 
Elastic bands hold teeth in place. While everyone's treatment time will vary depending on their specific issues and needs, most people wear braces for about 2 years. You'll typically check in with your orthodontist every 6 to 8 weeks to have the braces adjusted and to check that your treatment is progressing as intended.